Well, I joined this forum a few days ago, posted in the newbie section, had one reply and have checked daily for discussions. Does anyone use this forum or is the wrong time of year. I am so keen to get into piking and advice is to learn from others. So, here goes - I really want to catch on lures but have no idea where to go and what to do. I am in pontypridd south Wales but work all over the UK. Canal piking appeals as does the reports of a moat in a certain cadtle☺but, I don't want to make a fool of myself in public. So I guess what I really want is a kindly soul to take me under their wing and show me the ropes. As I am self employed I can book myself a day off but need about 3 months notice. Evenings are possible depending on where I am working. I await replies with fingers crossed. Thanks for reading. Tim



Posts

: 4


Join date

: 2015-06-18



Sorry its only me again Tim lol. Lots of Pikers on here in the Season sept/March roughly speaking. Many frown on pike fishing if the water temps are over 15C as pike give so much in the fight its thought that they can die after release from exhaustion. Highly contentious and summer piking questions usually end up as a slanging match lol. Try the pikers pit for more info if you dare go there




Well I joined the pit, and have cast my bait, thanks for the advice. Let's see what happens. Tim



Posts

: 4


Join date

: 2015-06-18



td66 wrote:Well I joined the pit, and have cast my bait, thanks for the advice. Let's see what happens. Tim
they can
be a bit rude on there its not for the faint hearted



Posts

: 3593


Join date

: 2010-01-14


Age

: 56


Location

: Warrington



Hiya Tim

the site will be very quiet this time of year but it will get better.



Posts

: 478


Join date

: 2011-12-20


Age

: 54


Location

: rugby



Will be starting my pike season next week hope it will be a good one.
I will soon be starting trolling lures Psion. the big Irish loughs are already down to 14 degrees C. Feels pikey to me lol.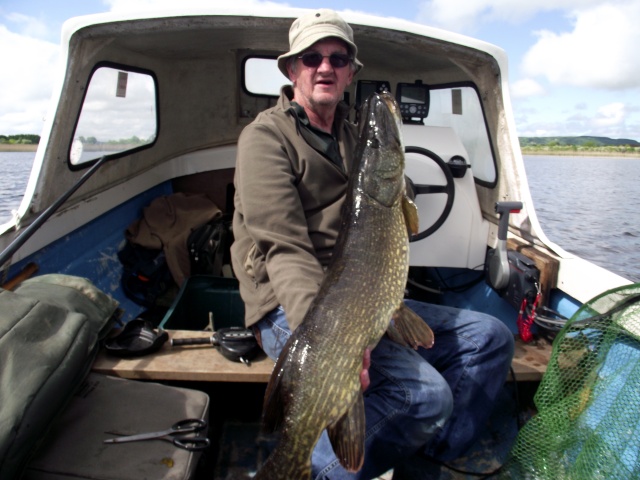 I caught this one in Ireland back in May. It was the only highlight in a poor week.
Nice fish Psion all the same. I stop after April as the prey fish get spread too far and wide. Feb and March are the best months.

---
Permissions in this forum:
You
cannot
reply to topics in this forum