Greetings my fellow pike anglers! Am I allowed to call myself that if I've never caught a pike.....? I am a new poster and am happy to be a part of such a great online community!

I have recently come across a municipal park that was once an old gravel pit. Mining operations ceased some time ago and the lake has held water for at least 20 years. The local county purchased the land and made it into a nature preserve. I have confirmation that the main lake was stocked in 2006-2007 with 50 Northern Pike but none since. I've never caught a pike, so it has become a bit of an obsession of mine to hook into one. The next closest lake with a serviceable pike population is 5+ hours away in Michigan. I saw what I assumed to be a LARGE pike surface to take something off topwater in the late summer and I saw a small pike in the shallows in the mid-to-late fall. If it weren't for those two instances, I would tell you that there aren't any pike in the lake at all. None of the fisherman that frequent the lake have caught one, they have only heard stories of people who have. 90% of those anglers are targeting Crappie.

Being an old gravel pit, it is very deep with little structure. My kayak has a fishfinder on it and I've confirmed that there are indeed fish in the lake but that it is a pretty uniform bowl shape that quickly slopes from the shore to 30-50 feet. I've tried pretty much everything I can think of to entice these fish into biting but to no avail. Various topwater baits, large swimbaits, large spoons, large spinners, large jerkbaits, crankbaits, and everything in between. I've even tried deadbaiting with fresh fish(white perch, boston mackerel) I bought at a local grocery store. Do you have any advice on how to target and catch one? I can only assume that the natural forage in the lake is so plentiful that they just don't react to normal presentations for pike.

I am a quick learner and am open to trying almost anything. Anxious to hear what you all have to say.




Posts

: 1


Join date

: 2016-12-16


Location

: Ohio



Welcome to the forum!

The old quarry certainly sounds like an interesting proposition, and I'd imagine after 10 years that the pike would be quite a size!

I fish a former quarry as well for other fish, but it also has 7 pike in it. It too runs to 45ft deep and much of it is a sheer drop off down to unfishable depths. This is what works well for me:

I fish for small fish called roach and there are hundreds of them. The first 10 roach I catch (they are literally 3-4 inches long usually, though do go a lot larger) I cut in half and chuck back in at my feet (which is 3ft from the bank, 8ft deep). I also have a small keep net in which I put all of these small roach, so I effectively have a shoal of about 100-300 of these small roach in a small space, right next to the spot that is baited with chopped fish. Coupled with that I'm constantly pulling out these little roach and feeding with maggots, it creates a lot of bait fish activity and the pike come in to investigate. This old quarry is 1 1/3 acres in size.

Since the pike were put in, I've only had a couple of sessions where the pike haven't come into my swim and I've nearly always caught one too. The key thing I think is the prebaiting and the presence of this nice shelf that is 8ft deep. On the water I usually fish up in the Scottish Highlands for pike, the depth is largely 17-21ft and featureless across 3/4 of the loch. I never catch in that zone. I only catch on the drop offs and on the weedbeds.

So if I were you I would go out in your kayak around the margin of your quarry, sticking within 10-15ft of the bank. Look for a nice shelf at 8-12ft deep close to the bank where you can prebait with chopped fish. Concentrate on quite a small area and regularly bait (say every couple of days, if it's possible). I would think that the pike will mostly stick to the margins as the featureless depths off fewer prospects for ambushing prey.

After a week or two of prebaiting, I'd be surprised if there weren't pike nearby to take your bait. I do look forward to hearing how you get on!



Posts

: 410


Join date

: 2016-11-15






Posts

: 3354


Join date

: 2010-01-14


Age

: 55


Location

: Warrington



Great photo there Stubbo! Nature making the most of mankind's indiscretions!



Posts

: 410


Join date

: 2016-11-15



water wolf pal cracking bit of kit , really opens your eyes , in observing the feeding and attack methods of the essox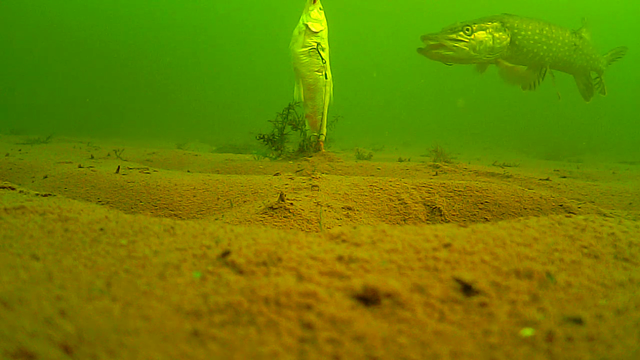 Posts

: 3354


Join date

: 2010-01-14


Age

: 55


Location

: Warrington





Similar topics
---
Permissions in this forum:
You
cannot
reply to topics in this forum