I sent this into Nevill and either the magazine shut down before it had chance to print it or it was horrible lol.  i enjoyed writing it anyway, and its a shame nobody would ever see it so i am forcing it on you

The power of the wind.
I have been a fish chaser for most of my life, and the truth of the matter is that if it had fins, I would target it.  Whether it was a tiny Gudgeon from the local dirty, smelly,  canal, or a spring run Salmon from the mighty Tweed.  I soon realised that the reason I spent most of my free time chasing, and the rest of my time daydreaming about chasing, was the unknown element of angling, and the what ifs?????   Its hard to explain to a none angler the pleasure that is felt by out smarting a supposedly stupid animal, but pleasure it surely is.  I can sit and talk to fishermen for hours on end and enjoy every second of it, but the glassed over look that you get from a none angler drives me to despair, how can they not get the beauty of it all?
The scenery and the mood of the water, the backdrops and the skylines. Even on its hardest frost bitten day, it beats the conditions of a centrally heated office and a blank magnolia wall surely? So it appears that we are not all the same and certain things inspire us, and others turn us off.  Well here is my turn on!
I have caught Pike in many of the traditional ways. Static, float fished, Roving, Fly, Trolling, Jerk baiting, and dare I say live baiting. But nothing, I say nothing, excites me more than watching a drifter float ease to the left or right and slowly slide under the surface. It never seems to happen in a dramatic fashion, and always appears in slow motion (unless your not paying attention). The constant attention to detail and presentation, the paying out and the mending of the well chosen floating braid, constantly keeps me amused. Choosing two float vanes that look identical but one seems to favor moving slowly to the right while the other likes the left side of the swim lol (putting off set holes in the vane helps exaggerate this).  There are so many variables that it's a learning curve every day. And never is there a guaranteed or certain way to do it. The easiest way to get the perfect drift is to utilize the drifter from an anchored boat,  even varied winds aren't a problem as 5 minutes see you set up in a different spot.  And I believe I have as near a perfect a craft as there is to present this method.
The Orkney 520 is a fabulous stable boat at anchor, with very little noise from wave action, this way you are sure to get the wind off of your back and the Floats entering the hot area time and time again.  My ideal scenarios in which to work or to position a bait, is either drifting the bait slowly over the ledge of a shallow area into the deeps. Across the deeper part of a known hole, or from the deeps across the shelf into the shallows. I know this will sound rudimentary to most, but the fact is that Pike certainly love holding out near a change in depth so the prey will swim out and over them in full sight.  
Remember there are acres and acres of dead water in most loughs and its important to not waste time drifting across them.  Predators make a living by finding the easiest food source. Gullible prey fish in there thousands will usually hang around the deeper parts of a lough when the water temps drop. Just arrive at your favorite venue, early on a winters morning and see the bait fish topping and rolling over the deeper water areas. Theres no need for a fish/depth finder under these conditions as the bait fish totally give themselves, and the hot areas away too. Now comes the hard part. You have to fight the urge to anchor right on top of the rolling, splashing bait fish.
Position yourself upwind by about 50mtrs, and drop anchors. I use a 7.5kg bruce up front and a 40lb lead mud-weight at the rear and that keeps me stable enough, in all but the strongest of winds. I set one bait at what I know is mid-water to catch the really active pike. (high rollers to coin a phrase) and one to trip the bottom and fool the well fed or not very active Pike as its slowly trips past their nose. My baits of choice are naturals mostly, Roach, hybrids and Trout in that order.  I usually hook one bait in the swimming position, with the upper treble hook under the dorsal fin, and the lower hook in the pectoral to mimic a natural swimming offering. And the second bait with the upper treble mounted in the tail root and the lower hook in the flank to give the impression of a downward swimming bait. Different days appear to produce different preferences for the Pike, but its extraordinary the way they appear to show a definite choice some days. It is weird how Pike habits seem to change daily,  the amount of times the shallow worked bait will out fish the deeper set one and and vica versa. Never ever place all your eggs in one basket as its crucial to learn what the Pike want on any given day. And that's only learnt by trial and error, so don't get set in your ways.
My local waters I know like the back of my hand so boat and bait positioning is easy enough. Let the baits drift until you think/know they are on the shelf or half way to the deep water mark and let them sit there for a while. They can be there for minutes or even hours and never touched, but the Pike knows they are there. Send them on their merry way by releasing a few spools of line and they can be immediately molested by a hungry yet cautious predator as they see their easy meal getting away. Slow and steady usually wins the race, trolling sometimes doesn't give a cautious Pike time to make a decision, static baits can easily give a Pike time to make up its mind and decide something's not quite right, but a slow bait drifted through the swim gives both excitement to the fish and just enough time to hang themselves. It's a case of what ever floats your boat lol. But the sight of a float, whether it's a drifter or not takes some beating. But the results speak for themselves. Large or small it's a fabulous way of catching our chosen prey. Happy hunting and don't forget the humble drifter .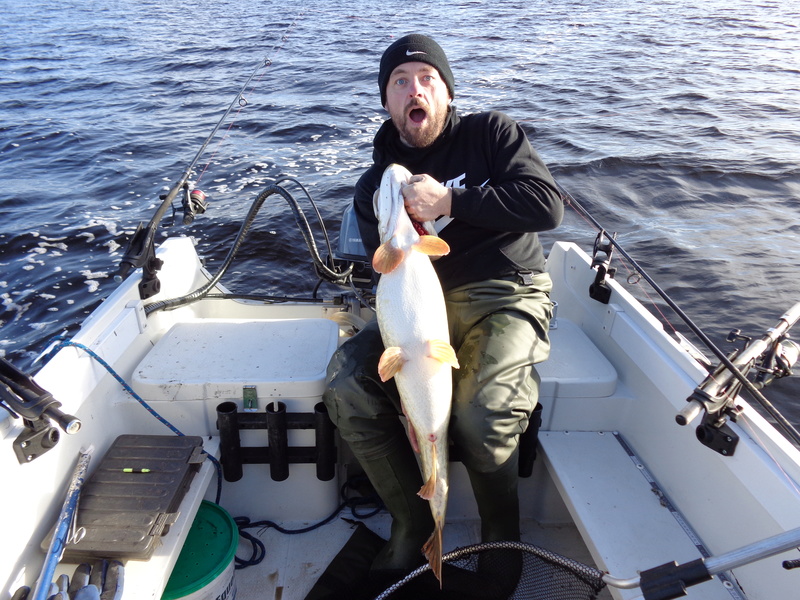 Andrew McFarlane  (Lowdouble)☺.
10-30 at night , reading this and I suddenly need to grab my rods and go fishing. Nice one Andy. Shame about P and P. Our gain though 👍

piketastic




Posts

: 676


Join date

: 2011-08-28


Age

: 54


Location

: sheffield



cheers Craig☺ I am so desperate to get out again. this season is going to start earlier for me i hope

Good read and tips, our gain...

Tigi113




Posts

: 74


Join date

: 2012-01-09


Age

: 60


Location

: n/e llincolnshire



nice one Andy I enjoyed that


mal wynne




Posts

: 126


Join date

: 2013-11-20


Age

: 59


Location

: wrexham



good read pal
don't think people realise how good it can be on the drifter
I too love this type of fishing , but like you said its brilliant from an anchored boat you can cover all the areas


stubbo




Posts

: 3670


Join date

: 2010-01-14


Age

: 56


Location

: Warrington



I enjoy your article. I have fished the drifter float a lot myself over the years can be a deadly way of fishing.

Pike & Predator finished a bit ago it was doomed the day Neville took it over. He is doing a new one called Predatorworld.

at £3 a copy from his fishing tackle shop. You could email at www.thetackle-shop.co.uk

psion




Posts

: 739


Join date

: 2011-11-25


Age

: 69


Location

: Lancaster





Similar topics
---
Permissions in this forum:
You
cannot
reply to topics in this forum