hi just wondering wot diffrent methods do u all use or favour?

i ave been using the float ledger rig wid a deadbait, and lure fishing to help pass the time.
i no i may need to use diffrent rigs depending on the situation!
but wots everyones genral approach?

and another thing i see most of you seem to use some kind of sea fish as dead bait and was just wondering if any of u use course fish, i ave been useing roach!

Brookie




Posts

: 53


Join date

: 2008-11-12


Age

: 34


Location

: Birmingham



Hi Brookie

I have used several different methods and you are correct in saying it really depends on the situation that you are fishing in and how you want to present your bait.

For Example do you want a bait...

On the bottom
Resting above some weed
In the mid to upper layers.
Moving with the wind on a lake
Trotting down a river

Are you fishing...

Estate Lakes
Gravel Pits
Rivers
Drains
Canals
Reservoirs
Glacial Lakes & Lochs

And there are many other factors too numerous to mention.

I know that is not too helpful so give us some detail (no venue names required) and someone on here will be able to give you a couple methods to go on.

Tight Lines
Andy Webster

_________________
Andy Webster
www.pikeangler.co.uk
Yeah mate, it really does depend on the venue and situation.
Usually I go for float ledgered deadbaits but have tried all sorts of tactics when one method doesn't seem to be working.
That's the best thing I like about going for pike - different tactics to try, mobile approach, you can spin/lure fish whilst having a deadbait out in the water or maggot drown in the margins. My mind rarely stops thinking about what tactic to try in order to get a catch if it's a quiet day. And if that particular swim you are on isn't producing, then move to another one that looks more 'pikey'. One good reason not to carry boatloads of gear with you
All the best.

Lefty




Posts

: 1297


Join date

: 2008-08-26


Age

: 50


Location

: Cadeby



cheers

well i ave been fishing a gravel pit in a peg in the corner of where i think! the pike have got all the prey fish trapped there!!
i have been fishing at the bottom of a shelf wid a deadbait on a float ledger rig, had 1 take in 2 short day sessions. thing is the pike have had a couple of gos at the bait, as i have been reeling the float in.
so next time i gunna try a drifter rig!!

Going to a small river near me tomorrow, trying a bit of trolling a deadbait and a bit of lurefishing , goin for the mobile approach! let you no how i get on.

Brookie




Posts

: 53


Join date

: 2008-11-12


Age

: 34


Location

: Birmingham



I tend to have my rods pre-rigged in my holdall as follows...
Trace (with hook bonnets on the trebles) - Berkely Swivel/Cross-Lok - ESP Buffer Bead - John Roberts Run-Ring (I normally have a paperclip on as a weak-weight link) - ESP Buffer Bead - John Roberts Run-Ring - ESP Buffer Bead - Stop Knot (if required) - Mainline
As mentioned above.....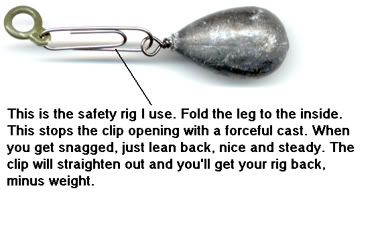 By using this setup, I can quickly change from a wobbling rig, to a running-leger rig, to a float-leger rig, to a free-roving float rig, to a paternoster and so on, without breaking my end tackle down all the time. It's simply a case of adding/removing weights, paternoster links, floats...whatever.
It's a very handy way of doing things, especially if you have to switch swims or change rigs or move regularly and it saves you chopping the end of your braid off all the time, which might not sound like much but it quickly starts to show. I only chop my braid when my line start to show wear and tear. In saving these few inches every time I set up, I've managed to keep the same braid on my reel for about 4 seasons now.
At the end of a session, I simply separate my rod sections, put the hook bonnets on, take the attachments off and put everything away, ready for my next session.

Andy Macfarlane




Posts

: 1879


Join date

: 2008-08-13


Location

: Glasgow



i like Dead Baiting, and lures but i have to say wobbling a dead bait is my prefered method, one rod, a small bag with unhooking kit, and your off, twenty minutes tops at one location. Saying that it is horses for courses fishing the bigger waters this way is difficult as i found out in March when i fished loch Ken. wobbling is a very productive method on the drains and rivers i fish in Lincolnshire.

Steve French




Posts

: 738


Join date

: 2008-11-12


Age

: 66


Location

: Middleton Derbyshire



Over the cousre of last season (and the start of this) I used all of the following:

Lures
Wobbled baits
Static deads
Static deads popped up
Paternostered lives and deads
Free roaming lives

I think it is important to be open-minded when fishing and take each session on its merits and fish accordingly.
Last edited by adamscott on Sun Nov 16, 2008 8:36 am; edited 1 time in total (Reason for editing : word missing)

adamscott




Posts

: 107


Join date

: 2008-11-14


Location

: Lancashire



---
Permissions in this forum:
You
cannot
reply to topics in this forum