Hi all,
I was reading previous threads on pop ups and deadbaits and saw an interesting post by Andy Macfarlane. He made them himself. My question is what are they used for and how do you use them?
Andy Macfarlane wrote:I make my own leger stems with a length of John Roberts rig tubing, 2 metal screw-in curtain hangers/picture rings and half a cork or 2-3 Fox poppers.
Gently heat one end of the rig tube and screw in your hanger. Once you've screwed the hanger in, dip that end of the tube in cold water to re-set the rig tubing solid. Glue if you're not that happy with the fixing but done correctly, it's solid. I can cast 4 oz leads no problem. Slide half a cork or 2 Fox poppers up the rig-tube and glue into position. Cut your tube to the length you want and then add the second hanger in the same way as the first. Hey presto....1 buoyant leger stem with metal rings.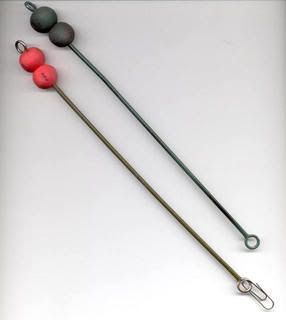 https://pikeangler.forumotion.com/t453-popped-up-dead-baits?highlight=popped+up+deadbait

pikey




Posts

: 8


Join date

: 2011-10-09


Age

: 39


Location

: West Midlands



main line goes through the loop at the top, and bomb clips on to the bottom clip. its used in weedy situations to keep the main line out of the weed as the 2 balls at the top are polly balls, and so pop your main line up.

_________________
SOON THE WHOLE WORLD WILL KNOW MY NAME.

MAD BAD ANGLER




Posts

: 1589


Join date

: 2008-08-27


Age

: 53


Location

: thorne, DONCASTER



They are also for very slow trolling/drifting on a boat to keep the bait and mainline from snagging the bottom debris. Very well made.
---
Permissions in this forum:
You
cannot
reply to topics in this forum