By Rick Lawrence
A.K.A The Fish-N-Fool
One of my favorite lures to fish for Bass and especially Pike is the old Silver Minnow Johnson spoon. This is a very over looked bait by about 90% of all Bass fisherman and many Pike anglers as well. The key to catching fish on the Johnson spoon is they require a little tweaking to work properly. The other type of spoon I use a lot is the Daredevil. The Daredevil works pretty well out of the box so to speak and doesn't really need any modifications to work well. The Johnson spoon however if you fish it straight out of the package, all it wants to do is spin. However with a few minor tweaks it turns into a fish catching machine. This is a great lure to fish over weed beds as it can be run fairly shallow on a slow retrieve once you tune it up. I will cover how to modify the bait so they work properly and how I like to fish them as well.
The first thing I want to say is I only fish the 1 1/8 ounce bait that is about 4 inches long. None of the smaller baits work properly in my opinion. I make two small but important tweaks to the bait to make them work like they should, which is to rock back and forth in about a 180 degree arc without ever spinning all the way over. The bait will also tail dance and flick the trailer from side to side when the bait is working correctly. Every Johnson spoon works better with a trailer of some kind on it, like a curly tail grub or one of the trailers I make that I call a kick-N-Fool trailer.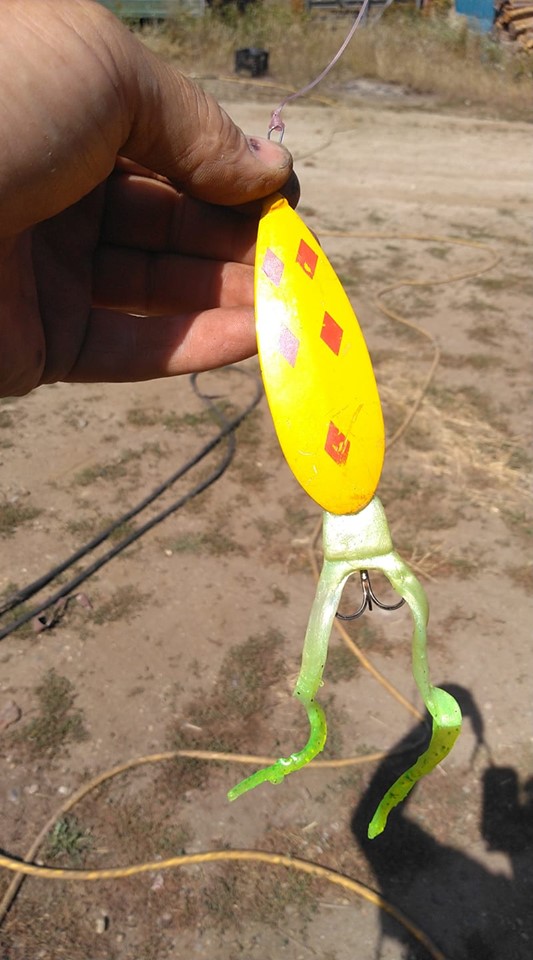 It is the one shown in the pictures above on the 5 of diamonds spoon. Sorry to say I do not sell these as I don't have a production mold for these, so I have to hand pour these 1 at a time. It would take far too long for me to make baits to try to sell, so for now it's just my little secret weapon.
Think of the Johnson spoon needing a trailer the same way that a kite needs a tail; it stabilizes the bait and keeps it from spinning. It is also very important how you put the trailer on the bait as to whether it works properly or not. It has to be super glued to the back side of the spoon so it lays flat and on the same plane as the spoon. If it's even just a little off the bait will not work right. Any flat trailer would work but a curly tail grub works good if you flatten one side of the bait and glue it in place. I rig them tail up or tail down and it doesn't seem to make any deference. See the drawing above for a better understanding of how it should look. If you get a Johnson spoon to work like it should it has an action that no other bait I know of has and Pike love it.
Another problem I have had with the Johnson spoon is poor hookup percentages. I have solved this by adding a fairly large treble hook to the back of the bait by sliding it over the hook point on the bait and using a small piece of a coffee stir stick/straw to keep it in place as in the drawing. I put this on so the hook shank will lay flat against the trailer and the 2 points of the treble are on each side of the bait. Sometimes I will superglue the hook to the trailer and sometimes I don't. If you glue it, it works great till you catch the first fish then it gets tore up most of the time. They seem to last a little longer not glued. When I use a trailer with 2 legs, (like my Kick-N-Fool trailer), I poke the 2 bottom points of the hook into the legs of the trailer which help keep them from getting tangled up on the hook.
So that pretty much covers the rigging, now let's talk about the different ways I fish a Johnson spoon and other spoons as well. I use 3 different methods with spoons and all produce fish at certain times.
The first method is just a simple cast it out and reel it in at a speed just fast enough to keep the bait in about 2 to 3 ft of water. If your bait is popping up to the surface you are either reeling to fast or not waiting long enough before you start your retrieve. With a Johnson spoon and a trailer this works very well and I have caught hundreds of Pike and many Bass with this tactic. The second method is what I call the yoyo. Reel the bait about 2 feet up and let it fall, then reel it up and let it free fall again. This bait has an amazing action on the fall that gets hits from Pike and Bass. I got my biggest Smallie of the year  on a Johnson spoon on the fall.
The last way I fish a spoon is like it's a jerkbait, but with more subtle jerks then you would use normally and as in fishing a jerkbait it's all about the pause. About 80% of your hits will come on the pause as the bait falls.
I got my personal best Pike last year on a 5 of diamonds Johnson spoon with one of my Kick-N-Fool trailers shown in the first picture.
It was an epic battle that you can see here;
https://www.youtube.com/watch?v=YX3hsz758-s&t=49s
good read pal , just goes to show some of the old lures still do the job , I still use spoons myself on some waters , you don't see anybody using big spoons these days, and I like the tweaks you have made with the rubber frogs legs , looks like you have good access to some good venues
and the size of your fish are impressive ........

stubbo




Posts

: 3799


Join date

: 2010-01-14


Age

: 57


Location

: Warrington



Good read Rick
Not used big spoons for years i used to tie red wool onto the hook on mine that helped catch a few
I've still got one or two somewhere in my garage i'll have to dig them out and give them a go
Some nice fish on a simply method. When I first started fishing in Ireland big spoons was all we used I have still got then. Then we moved on to
fancy American lures.

psion




Posts

: 801


Join date

: 2011-11-25


Age

: 69


Location

: Lancaster



---
Permissions in this forum:
You
cannot
reply to topics in this forum