Had the day off yesterday to fish/ nurse my hangover from graduation on Tuesday.
We fished a lake which is not really talked about in the local area.
Had a chat to a chap who was passing by and pulled in as he was surprised anyone was fishing there, i was fishing with some rubber shads and had explained i'd been watching large pike and jacks roll as they chased the fry out of the water.
He said he'd never seen it before, said he fished it all the time and it wasn't a productive lake on lure or deads.
We agreed to disagree and i carried on fishing it missing a jack on the retrieve due to the lack of a stinger on the end of my big tailed shad, i held the lure static as the fish struck twice at the tail. (Lesson number 1)
I fished many spinners, spoons and shads along with other plugs straight through the areas where the fry and the pike were rolling but just couldn't get a take. Not sure what i was doing to miss them?
I carried on with the fry settling down from 11:30 till about 3:45pm by which time a friend popped over for half an hours speculative casting, not really dressed for it, he stuck on some bright yellow, weighted jelly lure and cast out a few times through where the fish were rolling.
As luck would have it, he caught his second ever pike, he wasn't that sure that it was a fish and not just a twig fish as there was no real fight, the fish surfaced and there it was!
Took a minute to un-ravel the landing net as i'd carelessly left a spinner on the edge of the peg, the net had hooked it, we'd unhooked the pike but it rolled the net with the aid of the spinner, this gutted me as i didn't want to keep the fish out of the water

(lesson number 2)
We got a couple of pics and noticed the fish looked like it had been savaged before by another pike, this makes me wonder if the lake holds a few big fish and the chap didn't want us fishing his marks!
What do you guys think?
Here's the fish and my mate.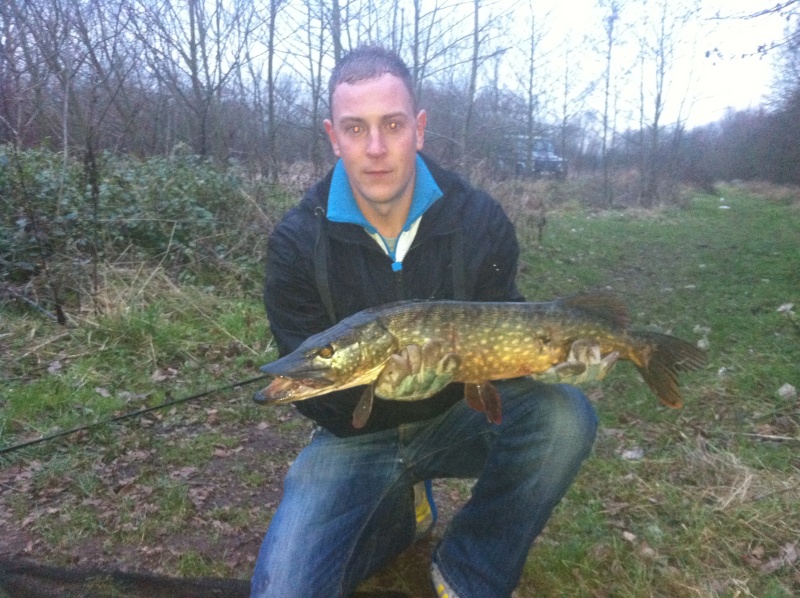 Posts

: 17


Join date

: 2011-02-06


Location

: Birmingham



looks like something has had ago at it, but the damage does not look like another pike has had a go at it.

_________________
SOON THE WHOLE WORLD WILL KNOW MY NAME.



Posts

: 1585


Join date

: 2008-08-27


Age

: 50


Location

: thorne, DONCASTER



Ahh that's a point, there were cormorants all over the lake, guess that could be a puncture wound?



Posts

: 17


Join date

: 2011-02-06


Location

: Birmingham



sounds to me like the pike are in spawning mode (rolling etc) and, yes there may well be bigger girls to be had. Was the wound fresh or an old one? If fresh it could well have been the big girl aving a snap at it after spawning.



Posts

: 1338


Join date

: 2009-01-29


Age

: 41


Location

: Beverley, East Yorkshire





Similar topics
---
Permissions in this forum:
You
cannot
reply to topics in this forum